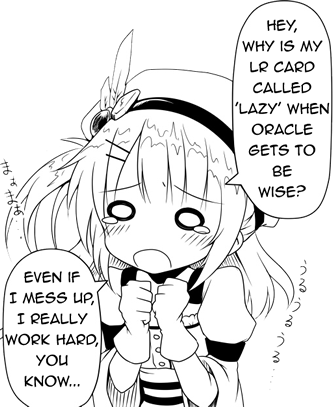 月✩失败的少女 - Introduction
Edit
Valkyrie Crusade ID: aydna
Alliance: None (Quit)
All-Time Highest Rating: 6
Registration Date: 6/30/2016
I'm not playing the game anymore.
Valkyrie Crusade
Edit
Main Teams
Edit
LAW Teams
Edit
Elemental Hall Teams
Edit
Wishlist / Favorite Cards
Edit
My favorite kinds of cards (aside from Alchemist in general) are ones that have a lot of coolness or personality in them. Generic "cute" cards are pretty much a dime a dozen in this game, but it's rare that you get dynamic-looking cards like Sorcerer Slayer or Tristesse - where just taking a single look at the card gives you a feeling of who the maiden in question really is. Backgrounds and camera angles, thus, are as important to me as the card art...though there are exceptions.
The card does has to be visually appealing to me as well. The first five cards on my "Pretty UR" list are ones I'd pay a lot for, just for the art alone.
My favorite pages
Edit
Add links to your favorite pages on the wiki here!
Favorite page #2
Favorite page #3
Community content is available under
CC-BY-SA
unless otherwise noted.