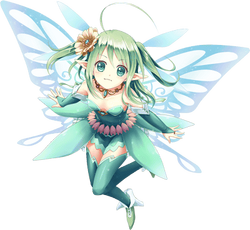 The Valkyrie Crusade Wiki is the source for information about Valkyrie Crusade. The goal of the wiki is to provide players with the information they seek relating to the game.
Success is achieved from the collaboration of numerous individuals. As an unofficial wiki, some information may be wrong or some vital information could be missing. Every person is welcome to contribute any game-related information to the best of their abilities. If you spot an issue and cannot fix it yourself, speak out and hopefully it will be brought to the attention of someone who can.
This wiki was created on March 19, 2013 by Shulouto. It currently...
has 4,541 pages of content
has 25,224 files uploaded
was edited 328,060 times
The current admins of this wiki can be found on the Special:ListUsers/sysop page.
About the Game
Valkyrie Crusade is a mobile app available on iOS and Android created by Nubee, a company situated in Tokyo, Japan. It is a card-collection-based game featuring hundreds of beautiful and lovable maidens. Players create a team of their favorite maidens and cooperate with others to battle against the powerful archwitches of the Celestial Realm.
Valkyrie Crusade is rated as high-maturity and contains some sexually suggestive content. If you are offended by such content, the game may not be right for you and it is recommended that you do not play it or visit this wiki.
Beginners of the game can continue reading the introduction as well as the guide to archwitches.
We hope you find the wiki helpful and we wish you the best of luck in Valkyrie Crusade.